MEDIA // ARTICLE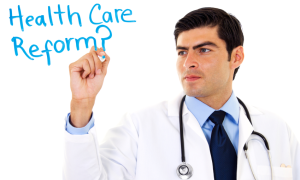 Frequently Asked Questions About Health Care Reform
November 07, 2022 at 2:00 PM EST.
Whether you agree with them or not, big changes came to health care over the past few years. On Oct. 1st, 2013, the federal government launched Healthcare.gov, kicking off "open enrollment" for millions of Americans who buy their insurance from the individual market.
But what does that mean for you? Here we'll break down some of the most frequently asked questions about the Affordable Care Act, Obamacare and Healthcare.gov.
I'm uninsured. What happens if I don't get coverage? Everyone is required by law to have health insurance coverage. Anyone who doesn't is required to pay a tax penalty, unless they qualify for an exemption. The tax penalty the first year was low, but it's continued to rise over the past few years.
What is a Health Insurance Marketplace? Health Insurance Marketplaces (also called Exchanges) are websites set up for individuals to buy health insurance. Each Marketplace features a number of insurance carriers, each offering different health plans. You are able to shop, compare and buy a health plan for you and your family. Premium and cost sharing subsidies are available through the Marketplace, based on income. Small businesses can also buy coverage for their employees through the Small Business Health Options Program (SHOP) Marketplace. Some Marketplaces are operated by the state, while others use the federal health exchange at Healthcare.gov.
Who can buy coverage in the Marketplace? To be eligible to shop in the Marketplace, you must live in the state where your Marketplace is, you must be a citizen or lawfully present in the US, and you must not be currently incarcerated.
My work offers health benefits but I want to see if I can get a better plan in the Marketplace. Is that allowed? You are allowed to shop for coverage on the Marketplace, assuming you meet eligibility requirements. However, if you have access to job-based coverage, you might not qualify for subsidies.
Can I enroll in Medicaid through the Marketplace? Yes. You can also enroll in Medicaid or CHIP at any time during the year, not just during Open Enrollment.
Can I buy or change private health insurance outside of Open Enrollment? There are a number of qualifying life events that would make you eligible to buy private health insurance outside of Open Enrollment. Some events that trigger a special enrollment opportunity include:
Loss of eligibility for other coverage (such as losing your job or losing student health coverage when you graduate)
Gaining a dependent (such as getting married, giving birth, or adopting a child)
Divorce or legal separation
Moving to another state or within a state if you move outside of your current health plan's area of coverage.
COBRA coverage ending
Losing eligibility for Medicaid or the Children's Health Insurance Program
Change in immigration status
There may be other events which would qualify you for special enrollment eligibility. When you experience a qualifying event, you can enroll for 60 days from the date of that event.
Do I have to buy a health plan on the Marketplace? No. The Marketplace is just one of the ways people can shop for individual health insurance. (Except in Washington, D.C. Residents there are required to purchase individual health coverage on the Marketplace.)
Can I get a subsidy on a health plan sold outside of the Marketplace? No. Premium tax credits are only available for plans purchased in the Marketplace.
What kind of health plans are offered on the Marketplace? There are four basic plans categorized by metallic levels: Bronze, Silver, Gold and Platinum. These four new metal plans are differentiated from another by their actuarial value. Actuarial value refers to the average amount of expenses that would be paid for by the member.
The higher the actuarial value of a plan, the lower the out-of-pocket costs for the plan member. A Bronze plan covers 60%, Silver 70%, Gold 80% and Platinum 90% of insurance costs. It follows the average premium will be lower for the lower metal plans and higher for the higher metal plans.
What health benefits are guaranteed to be covered through Marketplace plans? For individual health plans, there are 10 broad categories of medically necessary services covered (also called the 10 essential health benefits):
Ambulatory patient services (outpatient care)
Emergency services
Hospitalization
Maternity and newborn care
Mental Health services (including substance abuse)
Prescription drugs
Rehabilitative and habilitative services and devices
Laboratory tests and services (including X-Rays)
Preventive and wellness services, as well as chronic disease management
Pediatric medical services (including both oral care and vision care)
What is "cost sharing"? "Cost sharing" is the share of costs covered by your insurance, that you pay out of your own pocket. This usually includes deductibles, coinsurance, and copayments. It doesn't include premiums, balance billing amounts for non-network providers, or the cost of non-covered services.
How can I find if my doctor is in a health plan's network? Every plan sold in the Marketplace must provide a link to its health provider directory so consumers can find out if their doctors are included.
How can I find out if a health plan covers my prescription drugs? Every plan sold in the Marketplace must provide a link to their prescription drug "formulary". A "formulary" is a list of prescription drugs the plans will cover.