MEDIA // ARTICLE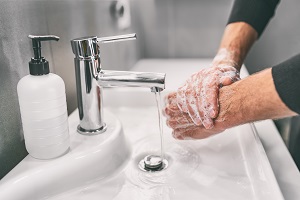 The COVID-19 Crisis: Preventing the Spread
April 06, 2020 at 2:00 PM EST.
While companies around the world are working diligently on a vaccination for coronavirus disease 2019 (COVID-19), right now the only prevention is to avoid being exposed. The virus is thought to spread primarily from person-to-person contact:
Between people who are within 6 feet of each other.
Through respiratory liquids produced when an infected person coughs, sneezes, or talks.
These liquids come in contact of people who are nearby.
Studies show that COVID-19 can be spread by individuals symptomatic.
Since the spread can happen from individuals not showing any symptoms, it is important to be diligent in your prevention methods. Here are some ways you can help slow the spread of the virus:
Wash your hands often. The best method is to wash with soap and water for at least 20 seconds, especially after being in a public place, or blowing your nose, coughing, or sneezing.
If you are unable to wash your hands, use a hand sanitizer with at least 60% alcohol. Rub your hands until they feel dry.
Avoid touching your face, eyes, nose, mouth, etc. with unwashed or un-sanitized hands. In fact, it's best to avoid this touching as much as possible, regardless of cleanliness.
Avoid close contact with people who are sick, or people outside of your home in general.
Stay home. Avoid public places like grocery stores, etc. unless absolutely necessary.
Put at least 6 feet of distance between you and other people when it is necessary for you to be in a public place, like the grocery store or doctor's office.
Wear a cloth face mask when in public/around other people. This may or may not help you avoid the illness, but more importantly, may prevent you from spreading it if you should happen to be infected without showing symptoms.

Face coverings should be used by young children under age 2 or anyone who has trouble breathing, is incapacitated or otherwise would be unable to remove the mask themselves.

Cover your mouth when sneezing, coughing, etc. Ideally, this would be done with a facial tissue you can discard immediately after use. Don't forget to wash your hands or sanitize after using a tissue.
Disinfect surfaces you touch often. This includes tables, doorknobs, light switches, countertops, drawer and cupboard handles, desks, phones, keyboards, toilets, faucets, sinks, etc.

To disinfect: Use detergent or soap and water prior to disinfection. Most common household disinfectants are appropriate. (Be sure to use disinfectants made for the surface.)
If you don't have or are unable to obtain a household disinfectant, you can make your own using household bleach:

Mix 5 tablespoons (1/3 cup) bleach per gallon of water or 4 teaspoons bleach per quarter of water.
Make sure to properly ventilate and use bleach application property according to manufacturer's recommendations. Make sure the cleaner is not expired. Never mix bleach with ammonia or other cleaners.